From self driving cars to streetlight sensors, we highlight some of the grand ideas for urban transportation from cities across the US
Source: Four ways technology will change how we commute in the future | Guardian Sustainable Business | The Guardian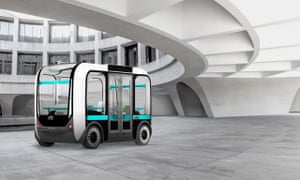 Columbus, Ohio, is a mid-size city known primarily as the home of Ohio State University, not as a hub of cutting edge technology for public transportation. But that is exactly what this city of 790,000 people plans to be.
By 2019, residents of Columbus could see autonomous shuttles cruising the Easton commercial district, motion-sensitive LED streetlights that also provide free Wi-Fi internet to the residential neighborhood of Linden, and 175 smart traffic signals that aim to ease traffic jams and speed first-responders' paths through the city. Residents will also be able to use one app to plan and pay for trips that require multiple types of public transportation.
Columbus's smart city evolution is taking shape thanks to $40m in federal funds the city recently won as part of the US Department of Transportation's Smart City Challenge. The challenge drew applications from 78 cities.